Moderation Modernised ✨
At Okendo, we're striving to build the best possible reviews experience. For us, this means giving merchants the tools they need to view all their content with a clean and simple design while also providing fast access to controls and detailed information. When we looked at our previous reviews and products sections, we saw several areas that could be improved to align with this vision. We set out to redesign and improve many aspects of these pages to make them simpler and to better serve the workflows our stores use most.


If you've been looking closely, you may have already noticed that these pages in the Okendo app have a new, shiny look. That's because we've been working hard to give them the hearty polish they deserve. Over the next two weeks, we'll be walking you through some of the design changes and new features we've brought to the Okendo app. This week we'll focus on the improvements we've made to the review moderation process.
Review Moderation List
The Review Moderation List is at the heart of Okendo. It's where merchants read, moderate and take action on their reviews. That's why, when we redesigned this page we focused on creating a clean design tailored to the things merchants do most.
Firstly, we redesigned our review cards to look great on all screen sizes and showcase the most important parts of the review like attributes, media and customer details. Our new collapsible customer panel provides increased visibility into the customers behind their reviews. After browsing your review, it's time to take action using our new toolbar which makes performing common actions quick and easy.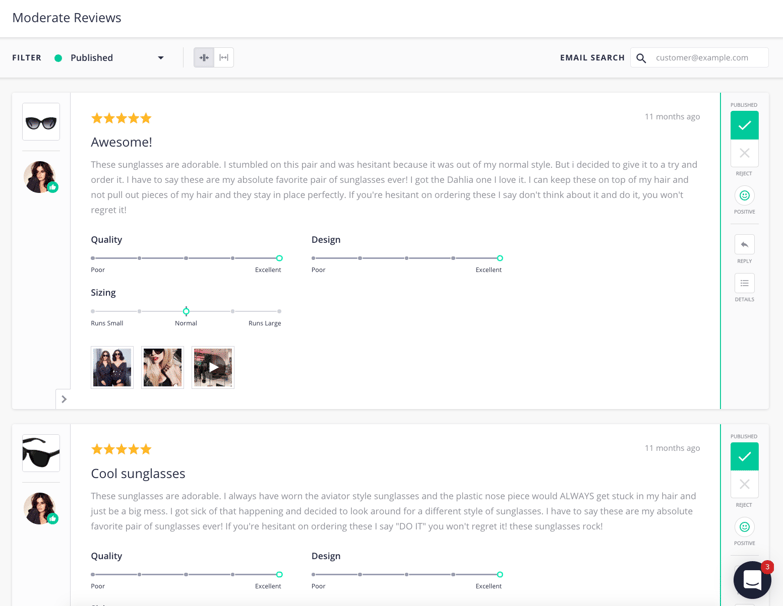 A brand new layout that makes moderation easier and faster
Next, to support fast moderation of reviews we've added a smart indicator below the moderation control. This indicator uses our new smart language algorithms to analyse reviews and indicate whether a review is positive or negative. We have coupled these smarts with a new warning for reviews which might contain profanity so you can make more informed moderation decisions. We've also added review search by email (link) and even more review insights on our review details page.
Review Details Page
The review details page provides new tools for managing and promoting reviews and for revealing interesting insights about customers and their interactions with your review program.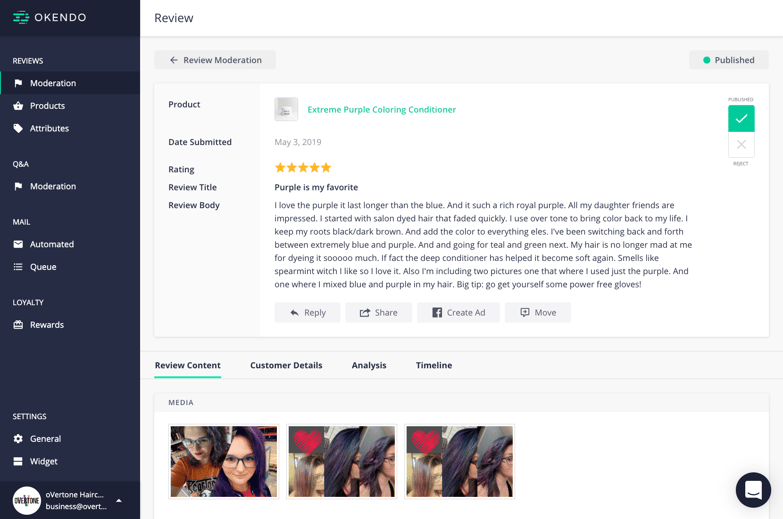 Get new insights and controls on the review details page
Specifically, on the new Review Details page you'll find:
Customer details: See all the reviews a customer has left.

Review analysis: Understand how a specific review compares to others.

Review timeline: A chronological log of all events for a specific review.

Move reviews: Self-service functionality to move reviews between products.
Read on to learn all about the exciting new functionality in the Review Details page.
Customer Details
Customers are the heart of your business and your review program. The customer details page enables you to see their profile picture, all the other reviews they have left and have quick access to their contact information.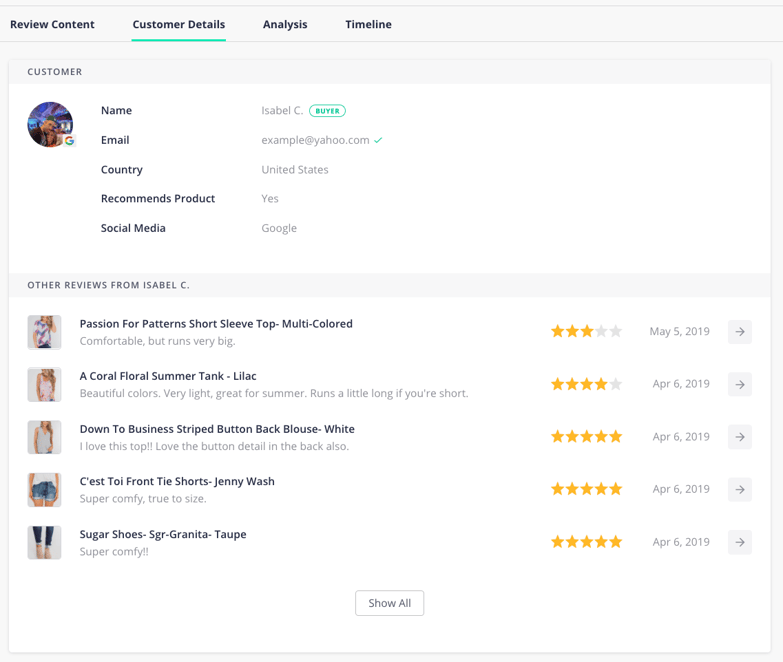 Get an overview of a customer's review activities
Review Analysis
Get a detailed analysis of your reviews like never before. See a full language sentiment breakdown, profanity indicators and the community response to published reviews. Additionally, see how each review stacks up against other reviews for the same product.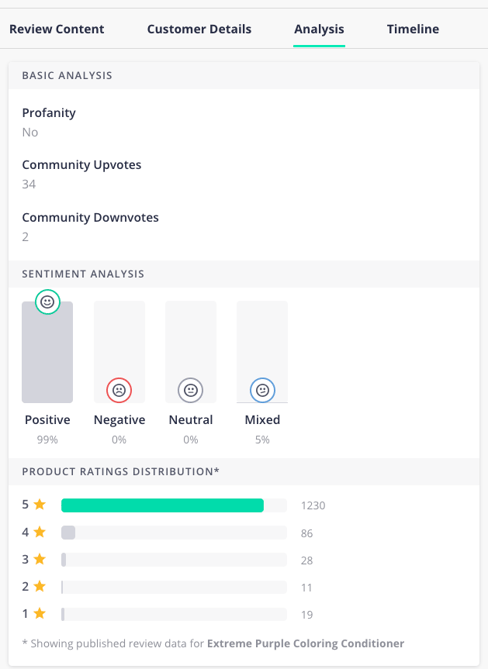 See how this review compares to others
Review Timeline
We built the review timeline feature to help merchants better understand and resolve reoccurring customer questions and concerns.
Do these customer concerns sound familiar?
I didn't get a review request email!
I didn't get a coupon code!
I didn't get my reward points!
Sometimes, the issues are internal, such as:
Why is (or isn't) this review published?
Did this negative review get sent to our Support team?
The review timeline provides a chronological log of all events for a specific review, from review creation and moderation changes right down to specifics such as the coupon code a customer received and relevant events from integrations with 3rd party apps such as Gorgias and Smile.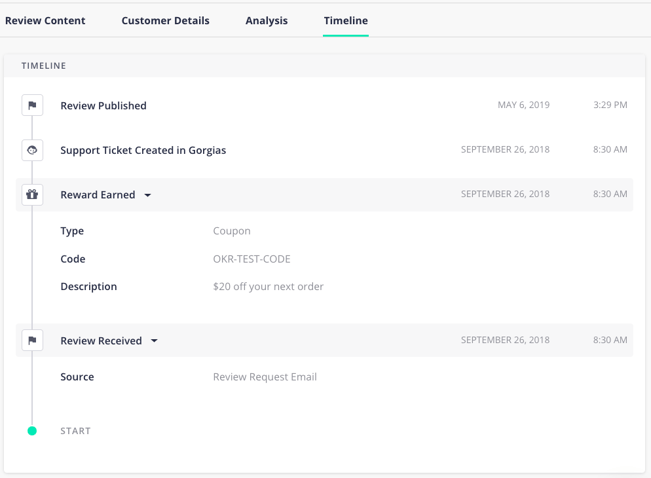 See all events for an individual review in a chronological timeline
The timeline feature provides direct and immediate answers to all of these questions and more, giving you more control and enabling you to resolve customer support issues faster.


Related articles from the Knowledge Base:
Move Reviews
Many merchants need to move reviews between products.
Common reasons for moving a review include:
A review has been generated for a sample product and the merchant would like to move the review to the market product.

A review has been generated for a discounted product and the merchant would like to move the review to the full priced product.

A review has been generated for a subscription product and the merchant would like to move the review to the stand-alone product.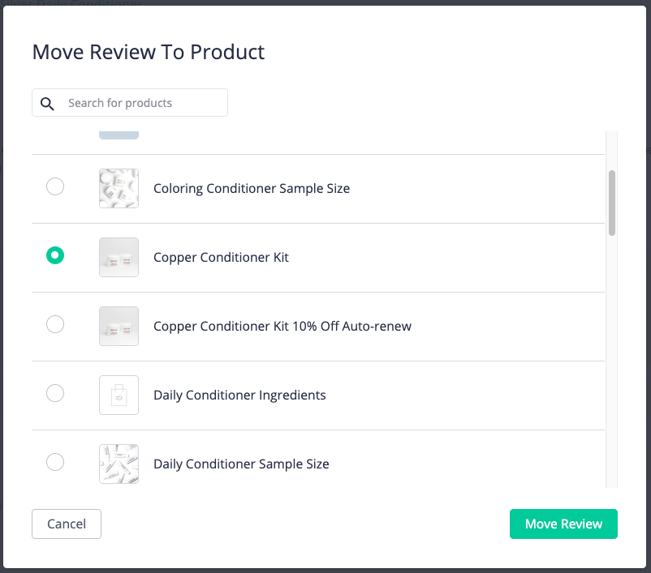 Move reviews between products with ease
Whatever the reason, merchants can now move reviews between products as needed.
Note: Bulk moving of reviews coming soon!
Related articles from the Knowledge Base:
Private Replies
Sometimes you need to reply to a reviewer but don't want the reply to appear publicly. Now you can reply privately to reviews and they won't be published to your storefront.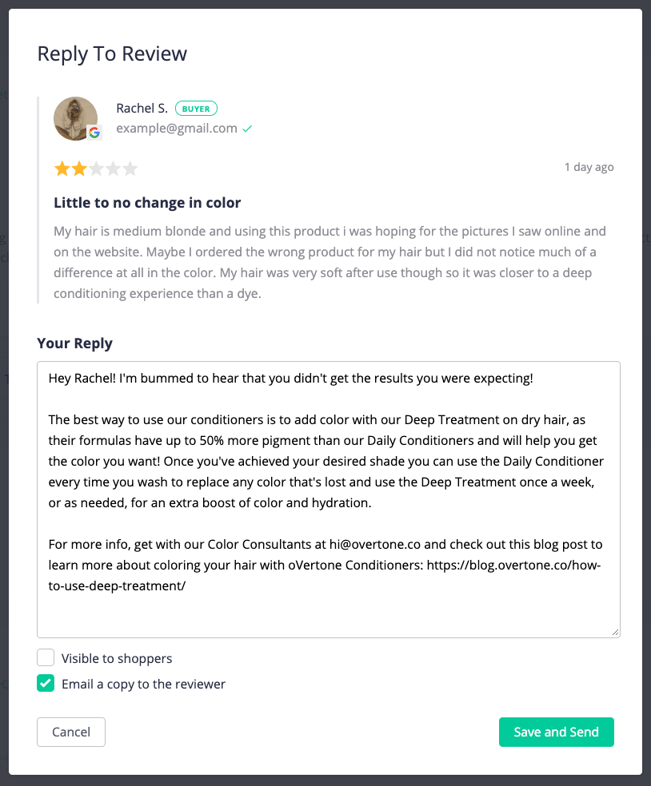 Send private replies via email
This is particularly useful when addressing customers with sensitive issues and concerns.
Should a customer reply to your review reply, the conversation will automatically be converted into an email chain using your Okendo account email.


Related articles from the Knowledge Base:
Media Moderation
An often requested feature was the ability to moderate customer-generated photos and videos separate to the review. After all, not all customer-generated content will meet a brand's standards for public display.
This makes complete sense and is now possible!
Selectively moderate media within a review
Merchants can now opt to selectively hide photos and/or videos from published reviews. This functionality is available on both the Moderation page and the Reviews Details page.


Related articles from the Knowledge Base:
Review Search
Find the reviews you're looking for with our new review search by email. On the review moderation list page, just start typing their email address in the search bar and see all of that customer's reviews appear in front of your eyes.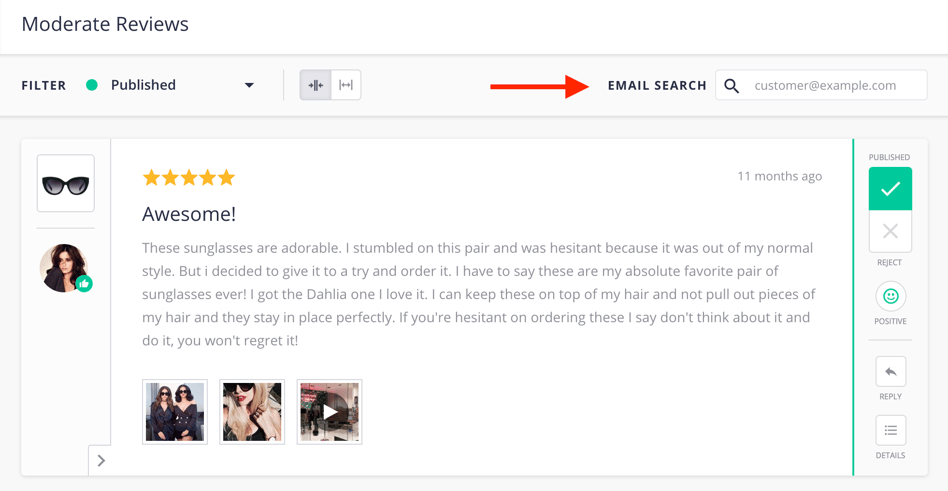 Quickly search and find specific reviews
Related articles from the Knowledge Base:

That's all for now! We hope you find the new Moderation designs, features and controls helpful. Please feel free to give us any feedback you or your team might have on this release and let us know what you think we should be building next.
Stay tuned for Part 2 of the Admin Upgrade release announcements coming next week where will cover the enhancements made to the management of Product related data within the Okendo app admin.

In particular, Part 2 will cover:
Product List
Product Search
Average Rating
Product Details
Attribute aggregates
Media aggregate

See you then! 👋


Learn More
Okendo is the leading customer content marketing platform for high-growth Shopify Plus and Shopify retailers. If you're interested to learn more about Okendo, implementing customer reviews and building customer communities you can Book a Demo, read our Customer Stories and explore our Features. You can also sign up to Ecommerce Elevated, a fortnightly curation of the best content for high-performance Shopify retailers.