Product Power-up 🔌
Learn about all the exciting new feature additions and enhancements made to the pages in Okendo that focus on products, namely the Product List page and Product Details page.
Welcome to Part 2 in our Admin Upgrade Announcement series!
The Admin Upgrade is a major project recently completed by our Development and Design teams to ensure the Okendo app admin aligns with our vision of building the best possible reviews experience. If you missed Part 1, 'Moderation Modernised', where we discussed the exciting enhancements and additions made to the review moderation experience then check it out here.
This week we'll be walking you through the exciting new feature additions and enhancements made to the pages in Okendo that focus on products, namely the Product List page and Product Details page. Let's get into it!


Product List
The Product List page is the starting point for this week's announcement. On the Product List page, Okendo users can see all the products they have created within Shopify along with the count of published reviews each product has received. Though few in number when compared to other pages worked on as part of the Admin Upgrade, the Product List page has received two very valuable additions; visibility into the average star rating of a product and the ability to search a product catalogue for a specific product.


Average Rating
You can now see and sort your products by average star rating, an aggregate of all star ratings left by customers who have reviewed that product, giving you visibility into and quick access to your most popular products and inversely, your emerging and/or not-so-popular products.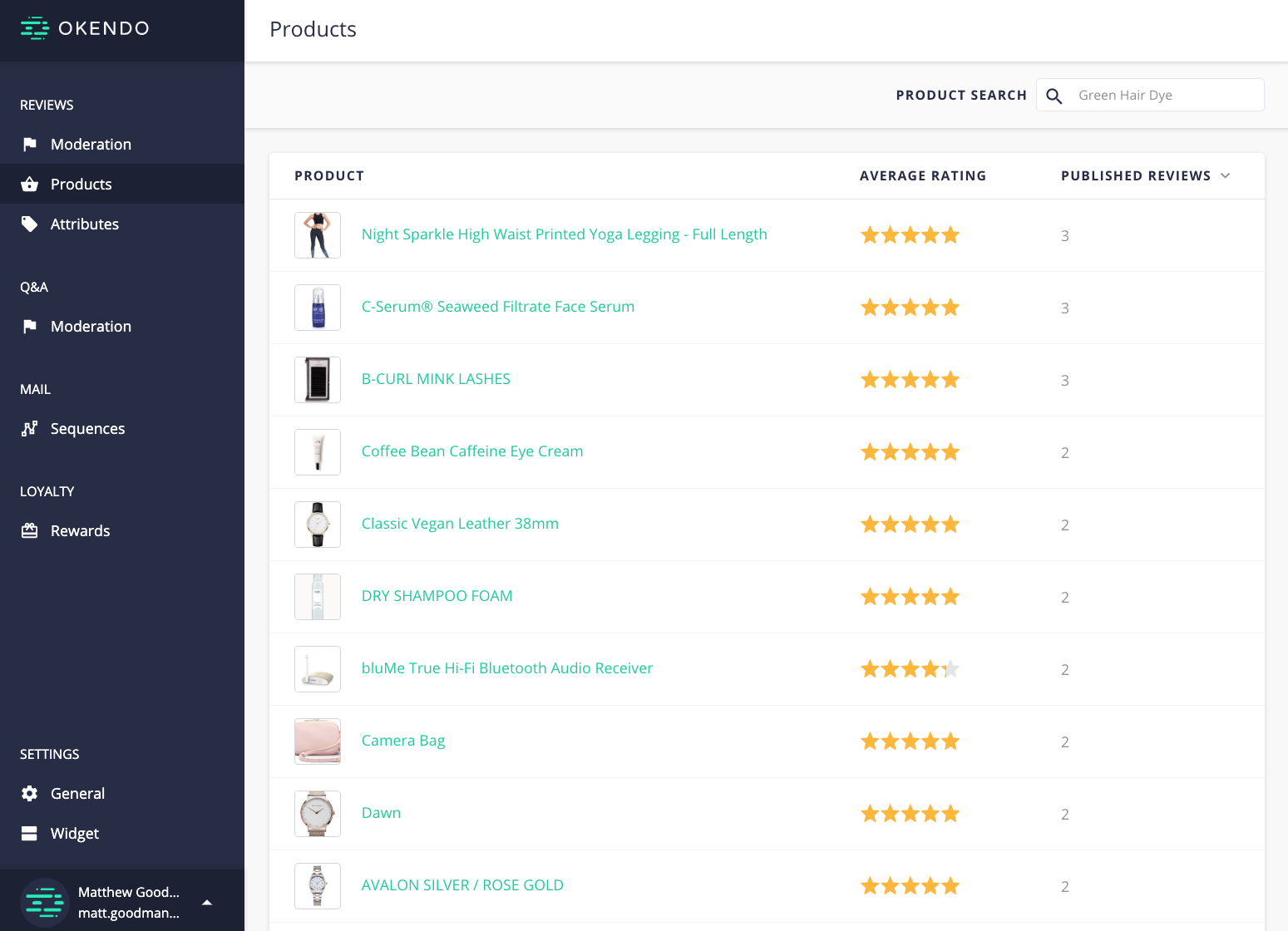 The new Product List page with average rating and product search functionality

Product Search
Product Search was another much-requested (and probably overdue) feature that we added to the Product List page. Previously, locating a specific product within Okendo could be challenging, particularly for users with large product catalogues. The addition of Product Search means users can now quickly search for a product within Okendo, find it and click through to an enhanced Product Details page where they can now see a broad range of new and incredibly valuable insights about their products, customers and reviews.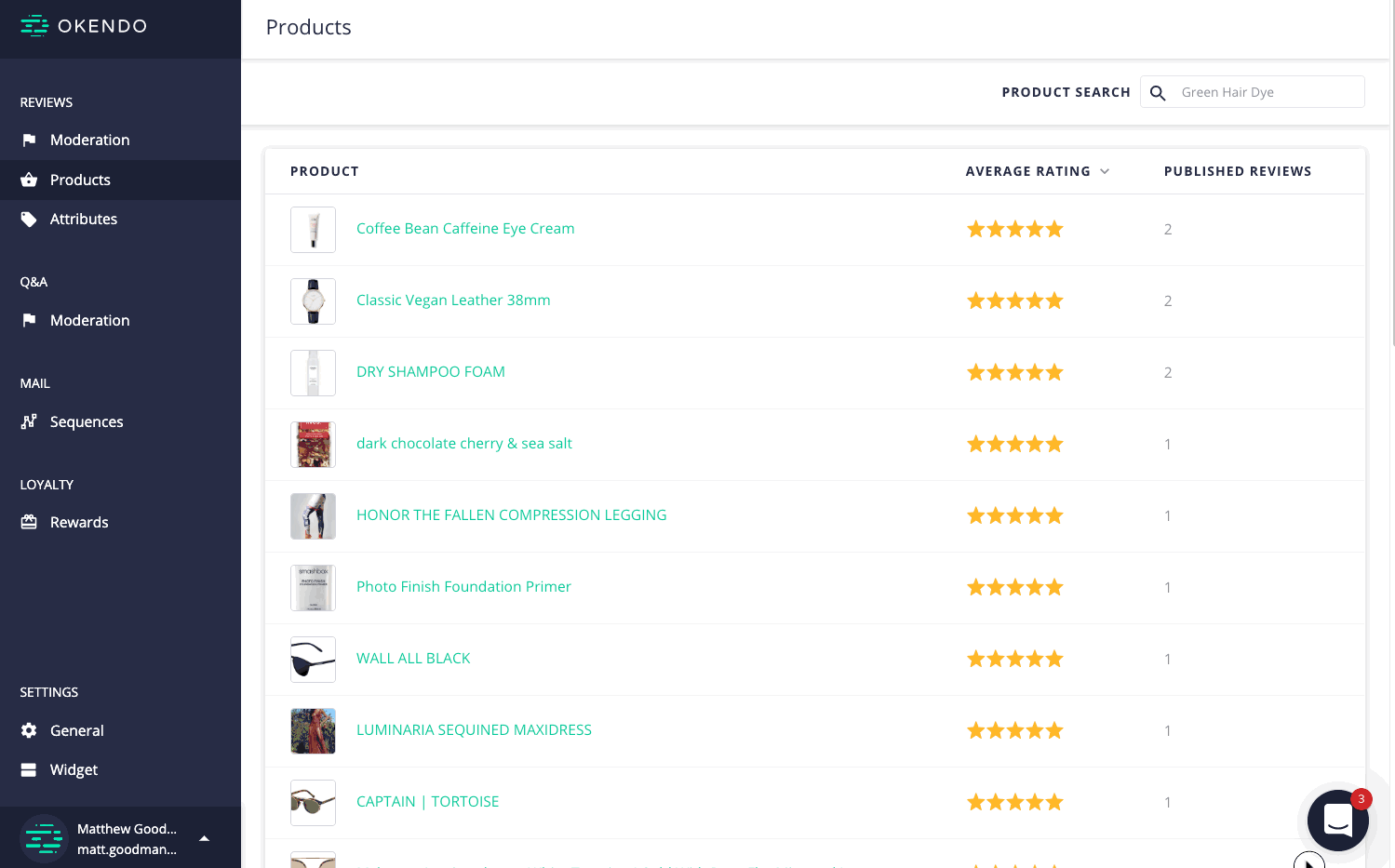 Quickly find and view specific products with the new product search feature
Product Details
We've made some big changes to our individual product pages to give you easier access to the valuable insights that Okendo captures about your customers and their experiences with your products. Designed to mirror the reviews data that appears on your store, each product page now shows the average rating, rating distribution, product reviews and questions, average or most popular attribute values, as well as all published photos and videos. Keep reading for more details about the analytics and media tabs.

Customer content is aggregated at the product level to facilitate content control and reveal new insights

Product Analytics
Head to the analytics tab if you want to see some solid data about what customers really think of your products. For every ranged attribute you've configured for a particular product, you'll see the average attribute value across all reviews. If your customers think your shirts are too tight, moisturiser too greasy, or your furniture too difficult to assemble, this tab will let you know.

For select attributes, you'll see how many people have chosen each select option, ordered by the most popular. This feature can be particularly useful for gathering insights into who is actually buying and reviewing your products. Whether it's the young and hip or the old and wise, the data will let you tailor your marketing to target the type of customers who are most likely to engage with your brand.
Media Aggregate
How awesome is it to see actual photos and videos of your products, taken by real customers? Shoppers find this type of visual social proof extremely compelling when considering a purchase, and as a merchant, it's just pretty exciting to be able to see real people enjoying what you have to offer. Well, the good news is, we've made it even easier to see your customer media with the new media tab on our product pages! Here you can find all the published photos and videos for a particular product in the same place. Alongside the ability to download any photo or video at full size, it's never been easier to find and select that perfect photo for your next marketing campaign or social media post.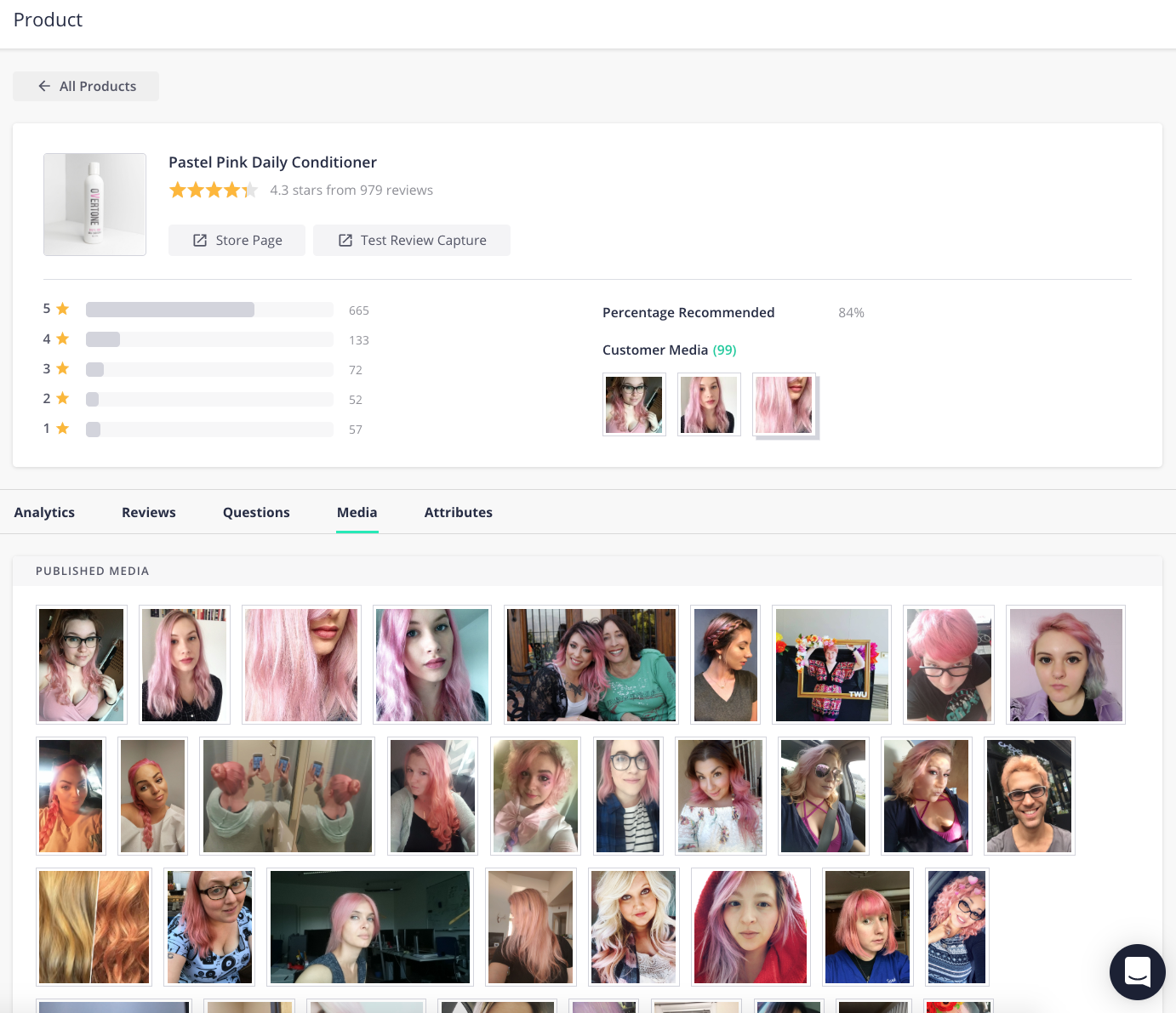 Aggregates of customer-generated media in all their glory
Questions
Another useful addition to the Product Details page is the consolidated list of questions. This gives merchants visibility into the volume of questions being asked about a given product. A high-volume of questions may indicate a need for additional information to the product page. Merchants can also filter questions based on their approval status and click through to see an individual question within the dedicated Question feature page of Okendo.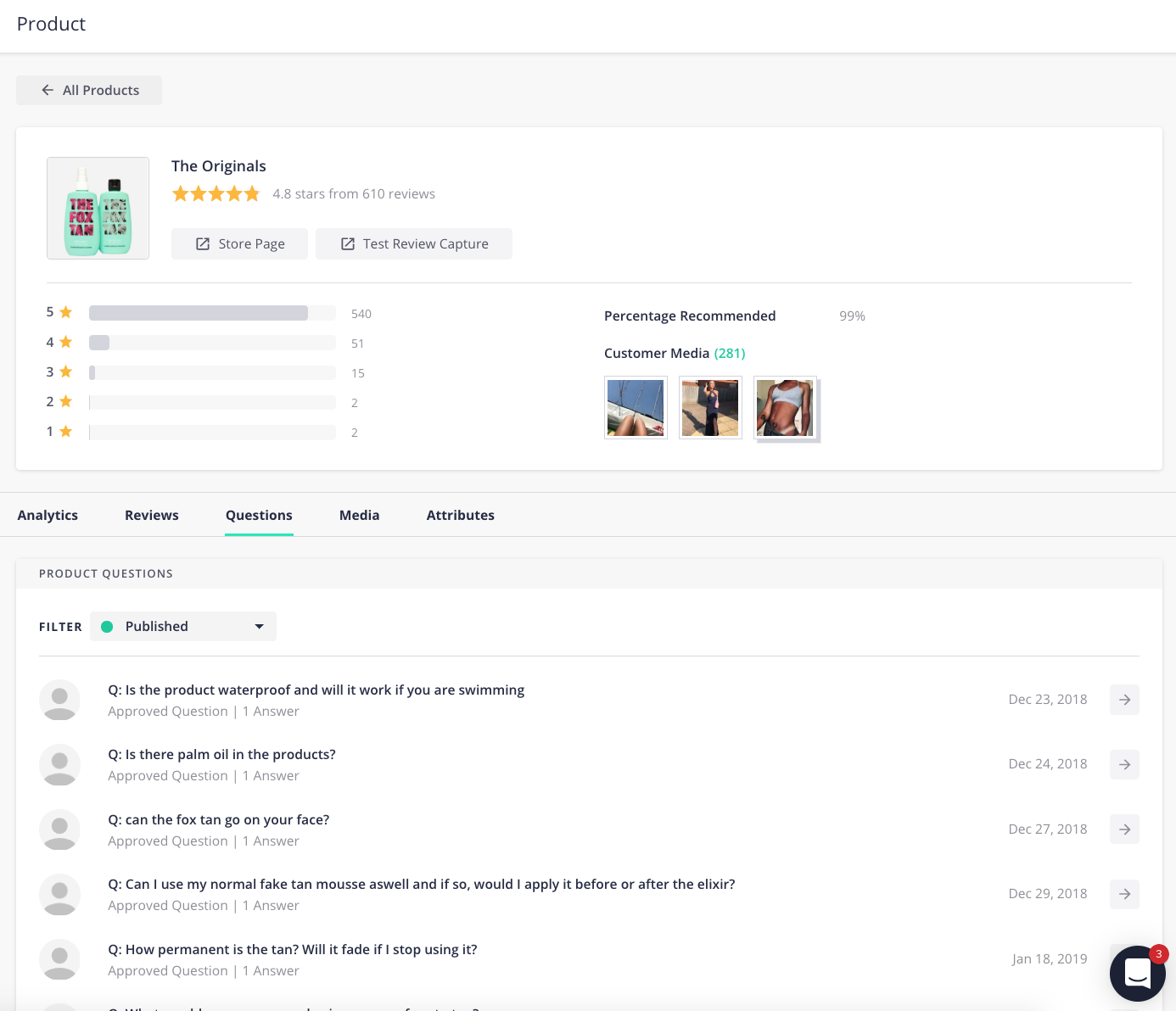 Consolidated lists of shopper questions gives insights into pre-purchase barriers
Learn More
Okendo is the leading customer content marketing platform for high-growth Shopify Plus and Shopify retailers. If you're interested to learn more about Okendo, implementing customer reviews and building customer communities you can Book a Demo, read our Customer Stories and explore our Features. You can also sign up to Ecommerce Elevated, a fortnightly curation of the best content for high-performance Shopify retailers.