Showcase UGC in beautiful, and extensively customisable, standalone media galleries!
Okendo has always made it easy for merchants (and rewarding for customers) to collect customer-generated photos and videos as part of the review generation process. Our amazing merchants have also proven that showcasing rich customer-generated media onsite is a highly effective means of increasing engagement, building trust and ultimately, driving performance lifts on key ecommerce measures such as product page conversion rates and average order values (read more about our Google Analytics integration here).
Today, we are excited to announce that we have expanded Okendo's visual marketing capabilities and made it possible for merchants to showcase their visual UGC in beautiful, and extensively customisable, standalone media galleries! To save time and hopefully answer some questions, we've broken things down into a few handy sections.


The What...
Media galleries are standalone onsite display widgets that aggregate customer-generated photos and videos submitted in product reviews captured by Okendo. Merchants can build a media gallery that aggregates customer photos and videos for a specific product, a collection of products or for all products in their catalogue. In keeping with our commitment to ensure all customer-facing touching points are an on-brand experience, merchants can choose from a range of extensively customizable media gallery templates to showcase customer-generated media at key places throughout their website.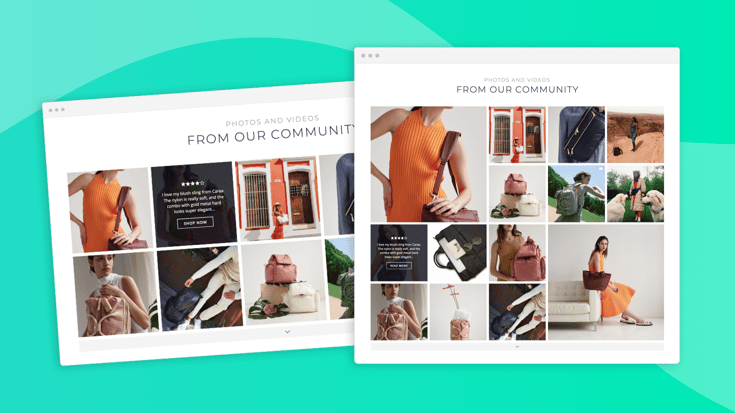 Standalone UGC media galleries are now available in a grid or carousel style widget

When shoppers hover over individual images within the gallery, the star rating and snippet of the review from which the photo/video belongs to will be displayed. When individual photos/videos are clicked, a modal will open showing the full review and product which is being reviewed. The product image is a link through to the product description page, providing a new path to purchase.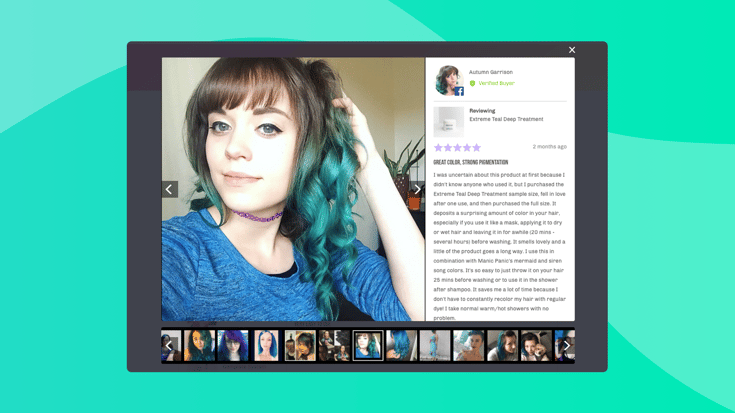 Showcase customer-generated photos/videos in beautiful, Instagram style modals



The Why...
Build trust and facilitate decision making
Showcasing customer-generated media galleries throughout the online buying journey is a fantastic way to enhance and extend your existing customer marketing strategy, the primary goal of which is to leverage the authentic voice of the customer to build trust and increase engagement.
Merchants can use UCG media galleries in support of this goal by giving shoppers a clear and visual insight into real life product performance, a pre-purchase consideration often top of mind for online shoppers. As impressed as they might be with high-end, professionally product photography, many shoppers are anxious to understand whether what they receive in the mail matches up to the hype. This is especially true for products which promise an outcome: skincare, cosmetics and beauty products and more. By visually showcasing the results of customers who have had positive product experiences, brands can build trust and excitement in the minds of new shoppers.


Inspire shoppers and showcase your brand community
Fast-growing DTC brands are achieving break-through success by building communities of loyal, highly-engaged consumers. By focusing on the development of a brand that stands for specific principles, values and activities and then working to actively develop a community of like minded consumers, DTC brands are successfully establishing the type of emotional connections that engender deep customer loyalty.
Media galleries are a perfect way to showcase a brand's customer community. They provide shoppers an immediate and engaging tool for gaining insight into a brand's customer community such as the profiles of community participants, the activities, culture and values of the community as well as the size and breadth of the community. In this way, shoppers can identify brand communities that align with their interests and values and be inspired by the activities and outcomes that brands and products promise.
The Options...
Okendo's new media galleries have been built with extensive customization in mind. Merchants can start by choosing either the Media Grid widget or the Media Carousel widget and can then customize the look and performance of the gallery as desired.

Media Grid
The Media Grid widget is available in 8 out-of-box widget templates as shown below: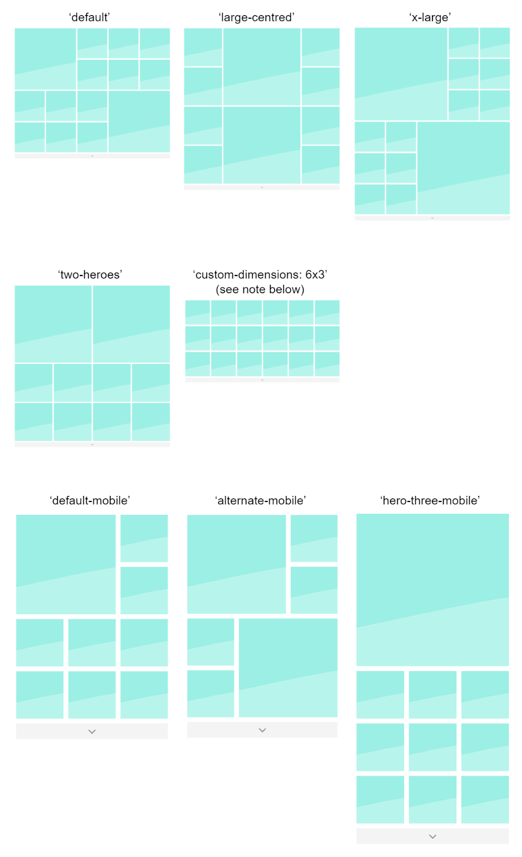 Media Carousel
The Media Carousel widget is a great fit for displaying visual UGC on either the homepage or product description page thanks to its elegant design and compact size.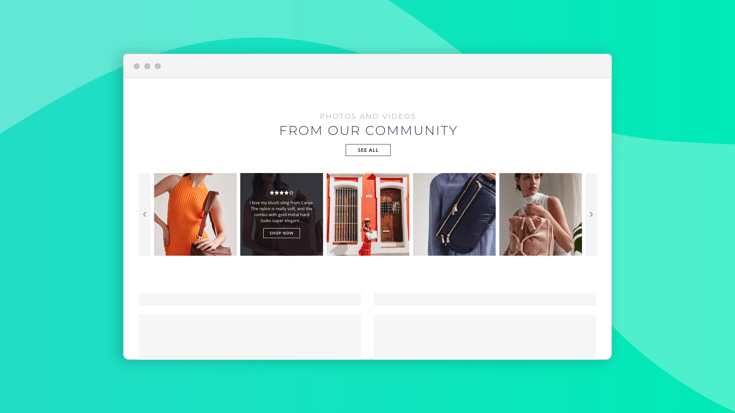 The carousel style media gallery
The How...
The easiest way to get started with media galleries is to contact the friendly Okendo Support team (support@okendo.io) who will be happy to set-up one or more media galleries of your choice. If you're unsure which gallery style you prefer, the Support team will be happy to first deploy one or more media galleries to a duplicate Shopify theme so that you can assess different styles before deploying live.
Otherwise, if you would like to self-install the widgets you can read our installation steps for the carousel widget here or the media grid here
The Who...
The Media Galleries feature is now available on the Power and Enterprise plans. See our Pricing page for the full list of feature inclusions on each plan.
Learn More
Okendo is the leading customer marketing platform for high-growth Shopify Plus and Shopify retailers. If you're interested in learning more about Okendo, implementing customer reviews and building customer communities you can Book a Demo, read our Customer Stories or explore our Features.