As an ecommerce merchant, you're on a mission to convert browsers into buyers, and then keep them coming back for more.
A key tactic that can help you accomplish this mission? Customer reviews. But how can you convince your customers to take the time to leave detailed reviews whenever they make a purchase?
Digital native Hannah, from the team at Swanky - a leading Shopify Plus Partner for design, development and growth services - explores how their client and online fashion store Pulse Boutique leveraged a loyalty program to maximise customer reviews and store conversions.
But first, Hannah takes a brief look at why you should be driving customer reviews in the first place.
Why are customer reviews important for ecommerce stores?
Customer reviews are a big deal. A staggering 95% of people read reviews before making a purchase online. What's more, studies have shown that displaying reviews can increase conversion rates by 270%.
Here are our top five reasons:
#1 Provide social proof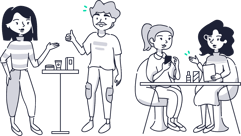 Us humans look to others in our social groups to help inform our choices. This is a phenomenon known as social proof and retailers can use reviews as a form of social proof, encouraging customers to make a purchase based on the feedback of others. Seeing that other people have reacted well to a product will help validate someone's initial interest and make the decision to purchase.
#2 Aid purchase decisions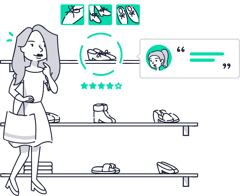 When shopping in a brick and mortar store customers can have tangible interaction with products, they can touch it, pick it up or try it on. As an ecommerce merchant, you need to make up for the lack of physical interaction that comes with online shopping.
Reviews are an effective way of making people's buying decisions quicker and easier, by providing valuable details about your products or services, offering customers richer information than price or material.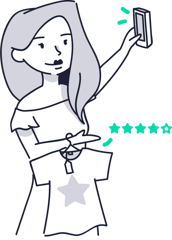 #3 Create trust and loyalty
Reviews provide a valuable opportunity to build relationships with your customers. By associating real people and their opinions with your store,
you're helping to personify your brand and establish emotional connections.
#4 Help with SEO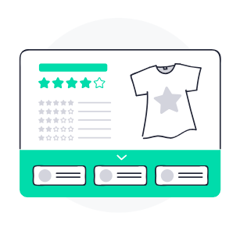 Having detailed customer reviews across your site is great for search engine optimisation (SEO) too. In fact, online reviews are thought to make up 10% of how search engines decide to rank local search results.
Here are some of the ways reviews can boost your SEO:
Steady supply of fresh, relevant, uniquely valuable content for search engines.
Boost results from long-tail keyword traffic
Rich review snippets can increase click-throughs from search engine results pages to product pages.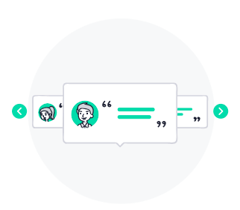 #5 Increase conversions
Ultimately, by driving search traffic, validating purchase decisions, building trust, boosting loyalty and much more, it's no surprise that customer reviews increase conversions across the customer journey, strengthening the likelihood of a purchase being made.
Motivate and reward reviews with a loyalty program
Ambitious US fashion brand The Pulse Boutique have successfully put this strategy into action on their Shopify Plus store. Thanks to an integration between Okendo and LoyaltyLion, members of their Pulse Perks loyalty program can earn loyalty points whenever they contribute a product review. This is a great way for getting their customers back on your site, engaging with your brand, and creating unique content.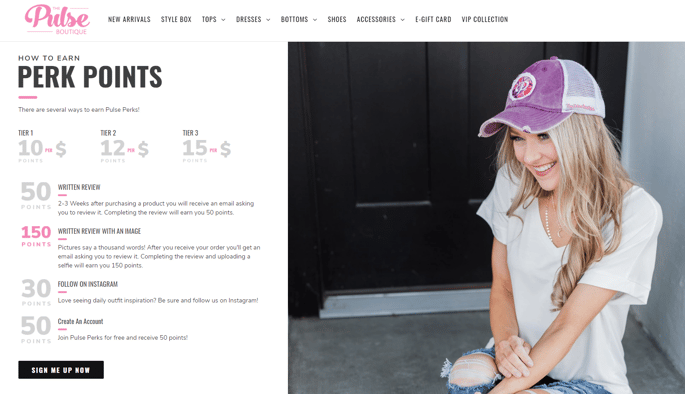 The number of points a customer can earn varies on the amount of information they provide in their review. Let's break this down below.
Award more points for visual review content
Pulse Perks members are rewarded with extra points if they upload photos or videos of themselves wearing Pulse clothing to their review. This is a smart move. Customers can enjoy the extra points, and the Pulse team have lots of user-generated content to supercharge their marketing campaigns - win-win!
Plus, not only is all this visual content helpful for SEO and marketing purposes, it's perfect for capturing the attention of new site visitors and compelling buying action. Visual reviews are more engaging, emotive and informative, so much so that our brains are actually hard-wired to process visual data more quickly and easily than text. They also act as a credible source of social proof, helping to increase confidence amongst prospective shoppers who might be hesitant to buy.
With all this in mind, consider offering bonus loyalty points to customers who include photos or videos alongside their written feedback!
Give bonus points for profile information
Pulse Boutique, also offered further points to customers who provided information about themselves with their review. Reviews that include detailed customer profile information such as age, size, shape and height allow shoppers to better understand how a product will suit them. Authentic feedback from a shopper with similar characteristics is as another powerful form of social proof.
Plus, not only is this profile data helpful for fellow shoppers, you can harness this data to segment customers and offer an improved, personalised experience.
To find out more about how The Pulse Boutique encourage reviews through their loyalty program, read the full case study here.
Encouraging customer reviews - best practice tips
Be as transparent as possible with your audience. Tell them that you understand and appreciate both positive and negative reviews.
Always close the feedback loop. Say thank you for all reviews and be sure to act on negative ones promptly.
Customers always want value. Consider incentivising each step of the review journey to ensure you get a holistic review.
Find out more
In your quest to drive customer acquisition and inspire long-term loyalty, customer reviews are a critical tool in your ecommerce strategy.
To find out more about how you can use a loyalty program to stimulate acquisition, engagement and retention across the customer journey, check out Swanky's Shopify Plus Loyalty Bundle or feel free to reach out to Okendo directly.